Wireless Networks

Advanced IEEE 802.11 Wireless Local Area Networks
English
subjects:
Wireless local area networks (especially mesh and ad-hoc topologies) based on the IEEE 802.11 standard are a very promising approach to provide an easily deployable and cost efficient solution for access to packet based services. This solution is particularly applicable in local and metropolitan areas with high population densities.
The Department of Telecommunications is actively involved in designing wireless network architectures, implementing wireless solutions, modelling wireless network behaviour, and simulating wireless network performance. Special attention is devoted to Quality of Service (QoS) provisioning. In this scope particular topics of interest include: implementation of medium access control (MAC), measurement modules for wireless local area network (WLAN) cards, design of signalling protocols, traffic differentiation at the MAC layer (according to the IEEE 802.11e and IEEE 802.11aa extensions), design and performance evaluation of MAC layer protocols, modification of software for networking layer traffic control, optimization of MAC layer parameters, design and implementation of monitoring systems and neighbourhood scanners, design and simulation of multirate protocols, modification of WLAN card drivers for supporting new QoS features, as well as, analysis of the impact of hidden, exposed, and misbehaving nodes on wireless network performance.
Another area of interest is autonomicity of wireless networks, including self-configuration, self-optimisation, self-healing, self-protection, self-awareness, and self-organisation. Additionally, virtualization of wireless networks, which enables decoupling the provided services from the underlying infrastructure, is the topic of our interest.
Finally, both theoretical and simulation analysis of the performance of the newest IEEE 802.11 standard extensions (e.g., IEEE 802.aa, IEEE 802.11ae) is also carried out in the Department of Telecommunications. 
projects:
Ongoing:
CARMEN, MeSH, IIP
Finished:
DAIDALOS, DAIDALOS II
Contact person: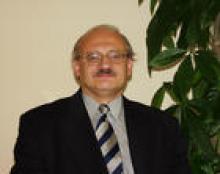 konsultacje:
czwartek 14:00-16:00, po wcześniejszym uzgodnieniu mailowym
Informacje dodatkowe:
Andrzej R. Pach ukończył Wydział Elektrotechniki, Automatyki i Elektroniki AGH w r. 1975, w r. 1977 doktoryzował się na AGH, a w r. 1990 uzyskał stopień doktora habilitowanego na Wydziale Elektroniki Politechniki Warszawskiej. Tytuł profesora otrzymał w roku 1999. Zatrudniony jest obecnie na stanowisku profesora zwyczajnego w Katedrze Tele­komunikacji AGH, której jest kierownikiem. Autor ponad 250 publikacji naukowych (w tym 6 książek) z zakresu protokołów komunikacyjnych, modelowania i analizy sieci komputerowych, sieci szerokopasmowych z integracją usług. Przebywał na stażach naukowych w CNET (Francja) i na Uniwersytecie w Katanii (Włochy). Aktywnie uczestniczył lub uczestniczy w projektach europejskich 4., 5., 6. i 7. Programu Ramowego oraz projektach COST i Eureka-Celtic. Kierował wieloma projektami badawczymi. Ekspert Komisji Europejskiej w zakresie Technologii dla Społeczeństwa Informacyjnego. Redaktor naczelny czasopisma Telekomunikacja Cyfrowa – Technologie i Usługi. Był redaktorem technicznym IEEE Communications Magazine (USA). Konsultant w zakresie nowoczesnej telekomunikacji. Założyciel i przewodniczący Krakow IEEE Communications Society Chapter. Członek Komitetu Ewaluacji Jednostek Naukowych w latach 2011-2014. Członek Komitetu Elektroniki i Telekomunikacji Polskiej Akademii Nauk. Przewodniczący Senackiej Komisji ds. Nauki AGH. Obecnie pełni funkcję Prorektora ds. Nauki AGH.
Additional information:
Prof. Andrzej R. Pach received the M.Sc. degree in electrical engineering and the Ph.D. degree in telecommunications from the AGH University of Science and Technology, Krakow, Poland, in 1976 and 1979, respectively, and the Ph.D.Hab. in telecommunications and computer networks from the Warsaw University of Technology in 1989. In 1979, he joined the Department of Telecommunications at the AGH University of Science and Technology, where he is currently a Professor and Chair. He spent his sabbatical leaves at CNET, France and University of Catania, Italy. He is the Vice-President of the Foundation for Progress in Telecommunications and serves as a chairman of the IEEE Communications Society Chapter in Krakow, Poland. He has been a consultant to governmental institutions and telecom operators in modern telecommunication networks. His research interests include design and performance evaluation of broadband networks, especially quality of service and network performance of access networks and wireless LANs. He has/had actively participated in COST, Eureka Celtic, and 4th, 5th, 6th, 7th FP European programs (ACTS, ESPRIT, IST, ICT, and Security). He co-authored more than 250 publications including 6 books. He served as a technical editor to IEEE Communications Magazine and is an editor-in-chief to Digital Communications - Technologies and Services. He has also been appointed as an expert in Information and Communications Technologies by the European Commission.