Flow-Oriented Networking

English
subjects:
The research group focuses on analyzing telecommunications and teleinformatics networks which are flow-oriented. Particularly, the following problems are studied:
Quality of Service differentiation and assurances,
flow-oriented routing mechanisms,
cross-layer interoperability.
Contact person: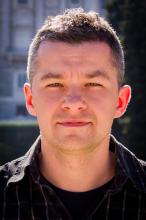 z-ca dyr. instytutu
profesor AGH
email:
robert.wojcik@kt.agh.edu.pl
konsultacje:
poniedziałek, 12:00- 14:00 (preferowane po wcześniejszym kontakcie mailowym)
Informacje dodatkowe:
Nazywam się Robert Wójcik. Uzyskałem tytuły Mgr inż. oraz Dr inż. (z wyróżnieniem) w telekomunikacji na AGH w Krakowie, odpowiednio w 2006 i 2011 roku. Praca doktorska był zatytułowana: "Net Neutral Quality of Service Differentiation in Flow-Aware Networks". Obecnie pracuję jako Adiunkt w Katedrze Telekomunikacji AGH.
Jestem współautorem 4 publikacji w czasopismach z Listy Filadelfijskiej, 1 rozdziału w książce, zgłoszenia patentowego i wielu artykułów konferencyjnych. Brałem udział w kilku międzynarodowych projektach badawczych, m.in. w projektach 7. Programu Ramowego UE: SmoothIT, NoE BONE and Euro-NF. Moje obecne zainteresowania skupiają się wokół sieci zorientowanych na przepływy, zapewniania i różnicowania jakości obsługi, neutralności sieci oraz sieci nakładkowych.
Additional information:
My name is Robert Wójcik. I received my M.Sc. and Ph.D. (with honors) degrees in telecommunications from AGH University of Science and Technology, Kraków, Poland in 2006 and 2011, respectively. The Ph.D. thesis was titled: "Net Neutral Quality of Service Differentiation in Flow-Aware Networks". I work as an Assistant Professor at the Department of Telecommunications of AGH.
I am the co-author of 4 international journal papers, 2 books, 1 book chapter, a patent application and a number of conference papers. I have been involved in several international scientific projects, including: SmoothIT, NoE BONE and Euro-NF. My current research interests focus on Flow-Aware Networking, Quality of Service, Network Neutrality and Overlay networks.