lab optyczne
Laboratory of Modern Optical Networks
Laboratory of Modern Optical Networks (MON) has been founded within a framework of MRPO.01.01.01-12-074/09 Project: Development of AGH Department of Telecommunications educational resources in the area of modern optical networks. The project contract had been awarded from Malopolska Regional Operational Programme for years 2007 – 2013. It had been started on 20 October 2009 and after about 15 months the laboratory was opened and regular classes have begun.
In the MON Laboratory some advanced laboratory sites have been designed and implemented to offer our students practical exercises on maintenance of optical telecommunications links and networks, to perform advanced reflectometric measurements, testing chromatic and polarization dispersions and spectral measurements of optical signals. Laboratory sites provide an infrastructure necessary to run laboratory exercises in configuration, tuning and maintaining DWDM networks. The Project and the laboratory definitely resulted in better access to educational high technology facilities to enable constant improvement of skills and knowledge of our students.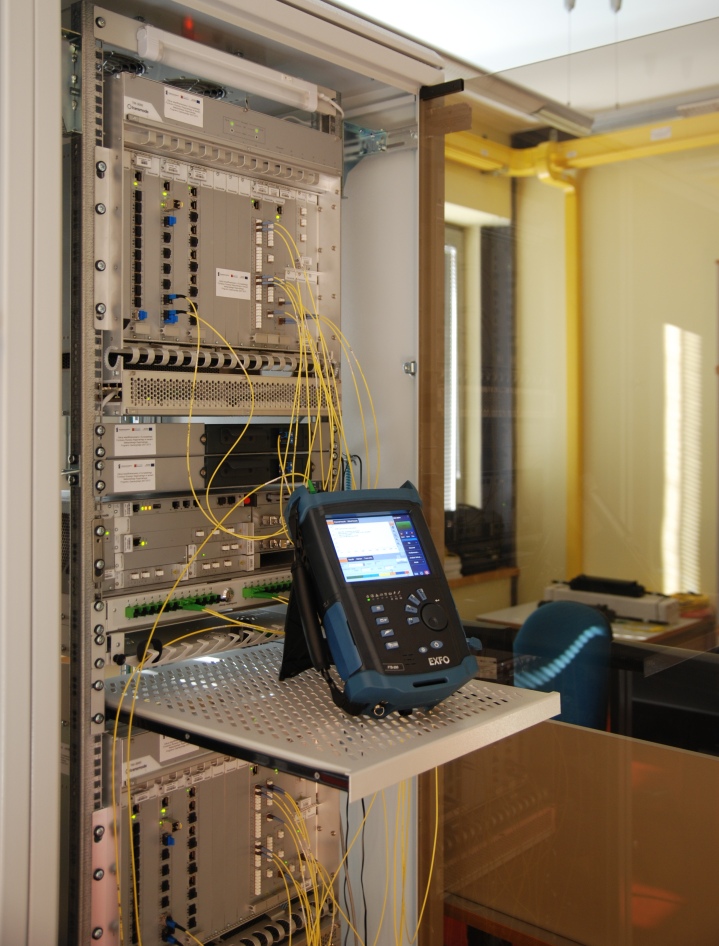 Laboratory equipment
Laboratory of Modern Optical Networks of AGH Department of Telecommunications is equipped with the most advanced telecommunications equipment enabling running laboratory classes at the highest level. There are three optical nodes installed in the laboratory. The first one is an EDFA optical amplifier equipped with some chromatic dispersion compensator modules. Two other nodes are equipped with eight-port DWDM multiplexers to allow set-up of multiple optical paths. The nodes have been also equipped with modules providing Ethernet interfaces to external devices. Some of the cards transfer Ethernet data using GFP framing protocol, the others offer dual 1 Gbps Ethernet connections and allow testing protection mechanisms of the optical link. The installed equipment has been supplied by recognized telecommunications equipment producer Transmode. We used Transmode TM-3000 hardware platform to integrate all the modules.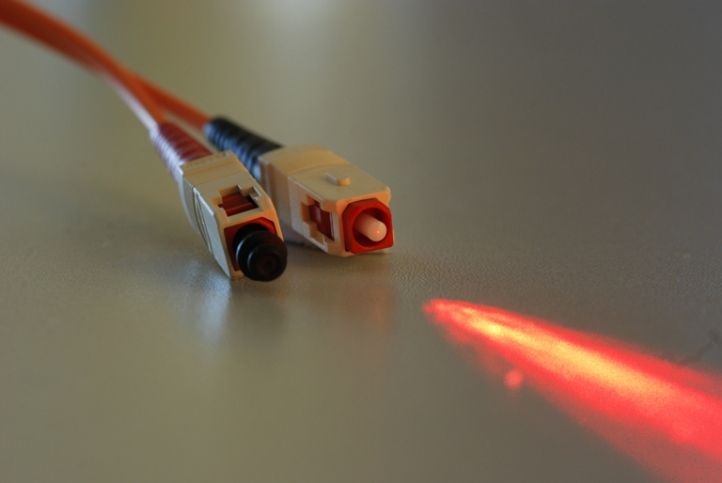 For the purposes of optical paths set-up about 340 km of optical singlemode fibres and about 18 km of multimode optical fibres were installed. Additionally, high-quality electronically controlled optical attenuator is available.
The laboratory is equipped with top quality measuring devices to allow for the wide range of fiber optic and optical measurements. We use FTB-7400-2347B and FTB-7200D-12CD-23B OTDR modules, an optical spectrum analyzer: OSA FTB-5240S-P and a module for chromatic and polarization mode dispersion testing FTB-5700-CD-PMD.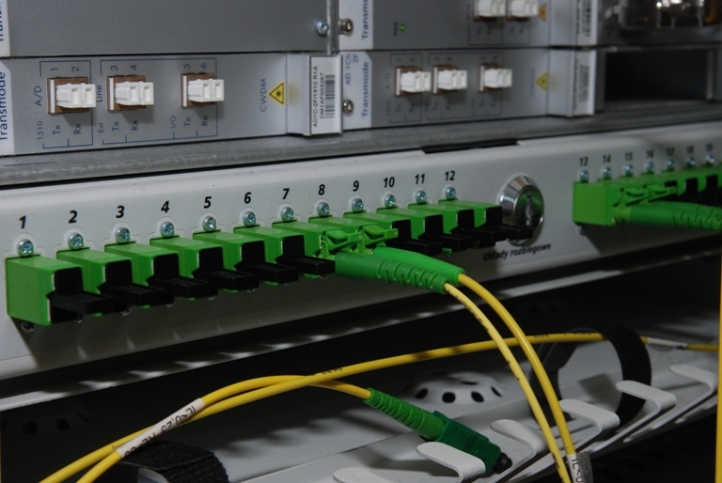 Measurements devices include also Ethernet protocol analyzer FTB-8510B-2. All the modules can be installed in one of the available EXFO platforms MTB-500 or FTB-200. FTB-500 is additionally equipped with a camera for optical connector inspection, visual fault locator VFL and optical power meter. An optical power meter PPM-352C ready for measurements in optical PON networks is also available. Some PC computers assure efficient organization of laboratory classes. Optical devices and elements used for configuration and tuning optical links for testing are available as well: optical attenuators, optical patch cables, optical splitters, specially prepared cables with damaged optical splices as some examples. Modern Optical Networks Laboratory uses dedicated VLAN network and is connected to the AGH Department of Telecommunications network.
English