The measure of security in quantum cryptography ("BEST PAPER AWARD")
English
Publication:
The measure of security in quantum cryptography ("BEST PAPER AWARD")
Show in user profiles::
Informacje dodatkowe:
Marcin Niemiec w roku 2005 ukończył z wyróżnieniem studia magisterskie na Akademii Górniczo-Hutniczej w Krakowie, odbierając medal Stanisława Staszica dla najlepszego absolwenta roku 2004/2005. Przebywał na studiach w Uniwersytecie Karola III w Madrycie. W roku 2011 obronił pracę doktorską dotyczącą kryptografii kwantowej na Wydziale Elektrotechniki, Automatyki, Informatyki i Elektroniki. Zajmuje się bezpieczeństwem i ochroną danych, a w szczególności: usługami bezpieczeństwa, szyframi symetrycznymi, kryptoanalizą, oprogramowaniem złośliwym, wykrywaniem ataków i kwantową dystrybucją kluczy kryptograficznych. Współorganizator wielu międzynarodowych spotkań, warsztatów i konferencji. Aktywnie uczestniczył w projektach europejskich 6. i 7. Programu Ramowego (ePhoton/ONE+, BONE, SmoothIT, INDECT), Eureka-Celtic (DESYME) i projektach krajowych (Real Time Billing, INSIGMA, Lider, SWOP). Uhonorowany nagrodą "Best Paper Award" na konferencji IEEE GLOBECOM 2012. Laureat stypendium Ministerstwa Nauki i Szkolnictwa Wyższego dla młodych wybitnych naukowców. Współpracuje z firmami jako konsultant naukowo-techniczny i specjalista ds. telekomunikacji. Autor ponad 60 publikacji naukowych, raportów naukowo-badawczych i recenzji w renomowanych czasopismach.
Additional information:
Marcin Niemiec, received the M.S. and Ph.D. degrees in telecommunications from AGH University of Science and Technology, Krakow, Poland in 2005 and 2011, respectively. Also, he studied in Carlos III University of Madrid. He joined the Department of Telecommunications, AGH University of Science and Technology in 2009. His research interests focus on security and data protection, especially: security services, symmetric ciphers, cryptanalysis, malware, intrusion detection, and quantum cryptography. Co-organizer of many international meetings, workshops, and conferences. He has/had actively participated in 6th and 7th FP European programs (ePhoton/ONE+, BONE, SmoothIT, INDECT), Eureka-Celtic  (DESYME) and several national projects (Real Time Billing, INSIGMA, Lider, SWOP). He is the recipient of the Best Paper Award from IEEE GLOBECOM 2012. He co-authored over 60 publications and reports (papers, deliverables, book reviews, IETF draft, and book).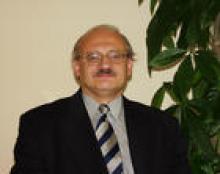 konsultacje:
czwartek 14:00-16:00, po wcześniejszym uzgodnieniu mailowym
Informacje dodatkowe:
Andrzej R. Pach ukończył Wydział Elektrotechniki, Automatyki i Elektroniki AGH w r. 1975, w r. 1977 doktoryzował się na AGH, a w r. 1990 uzyskał stopień doktora habilitowanego na Wydziale Elektroniki Politechniki Warszawskiej. Tytuł profesora otrzymał w roku 1999. Zatrudniony jest obecnie na stanowisku profesora zwyczajnego w Katedrze Tele­komunikacji AGH, której jest kierownikiem. Autor ponad 250 publikacji naukowych (w tym 6 książek) z zakresu protokołów komunikacyjnych, modelowania i analizy sieci komputerowych, sieci szerokopasmowych z integracją usług. Przebywał na stażach naukowych w CNET (Francja) i na Uniwersytecie w Katanii (Włochy). Aktywnie uczestniczył lub uczestniczy w projektach europejskich 4., 5., 6. i 7. Programu Ramowego oraz projektach COST i Eureka-Celtic. Kierował wieloma projektami badawczymi. Ekspert Komisji Europejskiej w zakresie Technologii dla Społeczeństwa Informacyjnego. Redaktor naczelny czasopisma Telekomunikacja Cyfrowa – Technologie i Usługi. Był redaktorem technicznym IEEE Communications Magazine (USA). Konsultant w zakresie nowoczesnej telekomunikacji. Założyciel i przewodniczący Krakow IEEE Communications Society Chapter. Członek Komitetu Ewaluacji Jednostek Naukowych w latach 2011-2014. Członek Komitetu Elektroniki i Telekomunikacji Polskiej Akademii Nauk. Przewodniczący Senackiej Komisji ds. Nauki AGH. Obecnie pełni funkcję Prorektora ds. Nauki AGH.
Additional information:
Prof. Andrzej R. Pach received the M.Sc. degree in electrical engineering and the Ph.D. degree in telecommunications from the AGH University of Science and Technology, Krakow, Poland, in 1976 and 1979, respectively, and the Ph.D.Hab. in telecommunications and computer networks from the Warsaw University of Technology in 1989. In 1979, he joined the Department of Telecommunications at the AGH University of Science and Technology, where he is currently a Professor and Chair. He spent his sabbatical leaves at CNET, France and University of Catania, Italy. He is the Vice-President of the Foundation for Progress in Telecommunications and serves as a chairman of the IEEE Communications Society Chapter in Krakow, Poland. He has been a consultant to governmental institutions and telecom operators in modern telecommunication networks. His research interests include design and performance evaluation of broadband networks, especially quality of service and network performance of access networks and wireless LANs. He has/had actively participated in COST, Eureka Celtic, and 4th, 5th, 6th, 7th FP European programs (ACTS, ESPRIT, IST, ICT, and Security). He co-authored more than 250 publications including 6 books. He served as a technical editor to IEEE Communications Magazine and is an editor-in-chief to Digital Communications - Technologies and Services. He has also been appointed as an expert in Information and Communications Technologies by the European Commission.
Publisher:
Proc. 2012 IEEE Global Telecommunications Conference (GLOBECOM 2012), Anaheim, CA, USA
Summary:
This paper describes a new concept of security measurement in quantum cryptography (QC). The most popular quantum key distribution protocol BB84 and the key distillation process are briefly introduced first. Next, a new concept of entropy of security in QC is proposed, and a unique measure of security is defined. Using this quantitative approach to security, it is possible to manage security and personalize services based on QC. Two different security levels are defined: the basic security level and the advanced security level. This differentiation of security enables us to choose the appropriate security level for specific end-users' requirements and needs. The last section presents the results of simulation experiments which verified the proposed solution.