PROACTIVE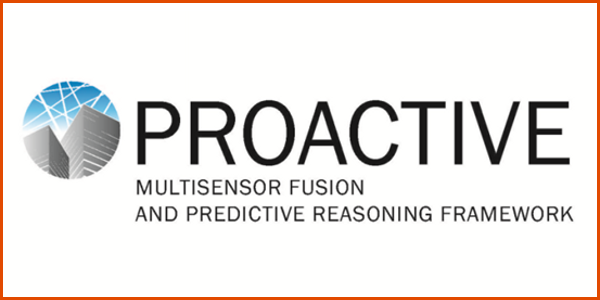 Źródło finansowania projektu:
PRedictive reasOning and multi-source fusion empowering AntiCipation of attacks and Terrorist actions In Urban EnVironmEnts
English
The main goal of PROACTIVE is to research a holistic citizen-friendly multi sensor fusion and intelligent reasoning framework enabling the prediction, detection, understanding and efficient response to terrorist interests, goals and courses of actions in an urban environment.
To this end, PROACTIVE will rely on the fusion of both static knowledge (i.e. intelligence information) and dynamic information (i.e. data observed from sensors deployed in the urban environment). The framework will be user-driven, given that the project is supported by a rich set of end-users, which are either members of the consortium or members of a special end-user advisory board.
Partners:
VITROCISET - Vitrociset spa
AIT - Athens Information Technology
CMR - CONSORZIO MILANO RICERCHE
HWC - HW COMMUNICATIONS LIMITED
KEMEA - CENTER FOR SECURITY STUDIES
KU - KINGSTON UNIVERSITY HIGHER EDUCATION CORPORATION
ISIG - Istituto di Sociologia Internazionale di Gorizia I.S.I.G
SZTAKI - MAGYAR TUDOMANYOS AKADEMIA SZAMITASTECHNIKAI ES AUTOMATIZALASI KUTATO INTEZET
UNIBWM - UNIVERSITAET DER BUNDESWEHR MUENCHEN
Contact person:
email:
natkanie(at)kt(dot)agh(dot)edu(dot)pl
www:
http://www.kt.agh.edu.pl/~natkanie
Informacje dodatkowe:
Marek Natkaniec otrzymał tytuł magistra inżyniera w r. 1997 oraz stopień doktora nauk technicznych w dyscyplinie telekomunikacja w r. 2002 na Wydziale Elektrotechniki Automatyki i Elektroniki Akademii Górniczo-Hutniczej w Krakowie. W r. 2013 uzyskał stopień doktora habilitowanego w dyscyplinie telekomunikacja na Wydziale Informatyki, Elektroniki i Telekomunikacji Akademii Górniczo-Hutniczej w Krakowie. Obecnie pracuje jako adiunkt w Katedrze Telekomunikacji Akademii Górniczo-Hutniczej. Jego zainteresowania są związane z sieciami bezprzewodowymi i w szczególności obejmują: lokalne sieci bezprzewodowe, projektowanie protokołów komunikacyjnych, zagadnienia jakości obsługi, a także modelowanie oraz analizę wydajności pracy sieci teleinformatycznych. Pracował jako członek komitetu programowego wielu konferencji międzynarodowych. Jest także recenzentem w czasopismach i konferencjach międzynarodowych. Pracuje bądź pracował aktywnie w takich projektach europejskich, jak: MOCOMTEL, PRO-ACCESS, DAIDALOS I, DAIDALOS II, CONTENT, CARMEN, MEDUSA, HECTOR, FLAVIA, PROACTIVE i RESCUE. Uczestniczy również w realizacji projektów badawczych finansowanych przez Ministerstwo Nauki i Szkolnictwa Wyższego oraz projektów dla przemysłu. Jest zaangażowany w proces standaryzacji architektury GANA dla ETSI. Pracuje jako ekspert oraz konsultant w dziedzinie  sieci bezprzewodowych dla operatorów telekomunikacyjnych. Jest także członkiem Komitetu Redakcyjnego czasopisma Telekomunikacja Cyfrowa: Technologie i Usługi. Od roku 2005 jest opiekunem studenckiego koła naukowego "Telephoners". Posiada status członka seniora IEEE. Jest współautorem sześciu książek oraz ponad stu publikacji naukowych.
Additional information:
Marek Natkaniec received the M.Sc., Ph.D., and Ph.D.Hab. degrees in telecommunications from the AGH University of Science and Technology, Krakow, Poland in 1997, 2002, and 2013 respectively. In 1997 he joined AGH University of Science and Technology as a researcher. Now, he works as an assistant professor at the Department of Telecommunications. His general research interests are in wireless networks. Particular topics include wireless LANs, protocol design, modeling and performance evaluation of communication networks, quality of service, and cooperation of networks. He has served as a Technical Program Committee member in many international conferences. He is a reviewer for international journals and conferences. He has actively participated in several European projects (MOCOMTEL, PRO-ACCESS, DAIDALOS I, DAIDALOS II, CONTENT, CARMEN, MEDUSA, HECTOR, FLAVIA, PROACTIVE, RESCUE) as well as grants supported by the Ministry of Science and Higher Education. He is involved in standardization activities for ETSI. He serves as an expert and a consultant to telecom operators in the area of wireless networks. He is a member of the Editorial Board of Digital Communications - Technologies and Services journal. Since 2005 he is advisor of the students' scientific circle "Telephoners". He is a senior member of IEEE. Marek Natkaniec has co-authored six books and over 100 research papers.