IIP
Future Internet Engineering
English
The project covers the development and testing of infrastructure and services for the future generation Internet, i.e. IPv6 Internet and Future Internet. It is expected that new generations of Internet (one of the research priorities in the scope of European Union Framework Programmes) will contribute substantially to civilizational development in Europe by using their capabilities in all or almost all areas of human activity.
The project is financed by the European Union through the European Regional Development Fund under the Operational Programme 'Innovative Economy' for the years 2007-2013:
•
Priority Axis 1 - Research and development of modern technologies. 
•
Measure 1.1 - Support for scientific research for establishment of a knowledge-based economy. 
•
Measure 1.1.2 - Strategic programmes of stientific research and development work. 
Project number: POIG.01.01.02-00-045/09-00.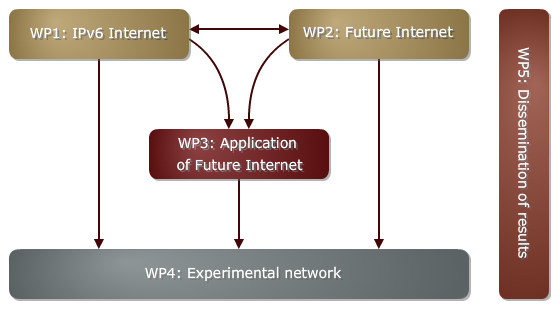 The aim of this project, in the scope of IPv6 Internet, is to develop a methodology for the evolutionary replacement of current version of IP (IPv4) in the national network by the IPv6 protocol and to propose new network solutions and services resulting from IPv6. The aim of this project, in the scope of Future Internet, is to develop and to test a proposal of a new architecture based on the resources virtualization along with new mechanisms and algorithms concerning the crucial aspects of network operations. The goal of the project is to create a national test network environment for the IPv6 Internet and Future Internet, enabling research and development activities based on the experimental verification.
Partners:
Instytut Łączności - Państwowy Instytut Badawczy
Poznańskie Centrum Superkomputerowo-Sieciowe (Instytut Chemii Bioorganicznej PAN)
Instytut Informatyki Teoretycznej i Stosowanej Polskiej Akademii Nauk
Akademia Górniczo-Hutnicza im. Stanisława Staszica w Krakowie
Contact person: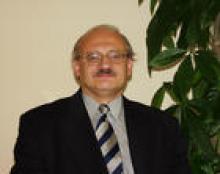 konsultacje:
czwartek 14:00-16:00, po wcześniejszym uzgodnieniu mailowym
Informacje dodatkowe:
Andrzej R. Pach ukończył Wydział Elektrotechniki, Automatyki i Elektroniki AGH w r. 1975, w r. 1977 doktoryzował się na AGH, a w r. 1990 uzyskał stopień doktora habilitowanego na Wydziale Elektroniki Politechniki Warszawskiej. Tytuł profesora otrzymał w roku 1999. Zatrudniony jest obecnie na stanowisku profesora zwyczajnego w Katedrze Tele­komunikacji AGH, której jest kierownikiem. Autor ponad 250 publikacji naukowych (w tym 6 książek) z zakresu protokołów komunikacyjnych, modelowania i analizy sieci komputerowych, sieci szerokopasmowych z integracją usług. Przebywał na stażach naukowych w CNET (Francja) i na Uniwersytecie w Katanii (Włochy). Aktywnie uczestniczył lub uczestniczy w projektach europejskich 4., 5., 6. i 7. Programu Ramowego oraz projektach COST i Eureka-Celtic. Kierował wieloma projektami badawczymi. Ekspert Komisji Europejskiej w zakresie Technologii dla Społeczeństwa Informacyjnego. Redaktor naczelny czasopisma Telekomunikacja Cyfrowa – Technologie i Usługi. Był redaktorem technicznym IEEE Communications Magazine (USA). Konsultant w zakresie nowoczesnej telekomunikacji. Założyciel i przewodniczący Krakow IEEE Communications Society Chapter. Członek Komitetu Ewaluacji Jednostek Naukowych w latach 2011-2014. Członek Komitetu Elektroniki i Telekomunikacji Polskiej Akademii Nauk. Przewodniczący Senackiej Komisji ds. Nauki AGH. Obecnie pełni funkcję Prorektora ds. Nauki AGH.
Additional information:
Prof. Andrzej R. Pach received the M.Sc. degree in electrical engineering and the Ph.D. degree in telecommunications from the AGH University of Science and Technology, Krakow, Poland, in 1976 and 1979, respectively, and the Ph.D.Hab. in telecommunications and computer networks from the Warsaw University of Technology in 1989. In 1979, he joined the Department of Telecommunications at the AGH University of Science and Technology, where he is currently a Professor and Chair. He spent his sabbatical leaves at CNET, France and University of Catania, Italy. He is the Vice-President of the Foundation for Progress in Telecommunications and serves as a chairman of the IEEE Communications Society Chapter in Krakow, Poland. He has been a consultant to governmental institutions and telecom operators in modern telecommunication networks. His research interests include design and performance evaluation of broadband networks, especially quality of service and network performance of access networks and wireless LANs. He has/had actively participated in COST, Eureka Celtic, and 4th, 5th, 6th, 7th FP European programs (ACTS, ESPRIT, IST, ICT, and Security). He co-authored more than 250 publications including 6 books. He served as a technical editor to IEEE Communications Magazine and is an editor-in-chief to Digital Communications - Technologies and Services. He has also been appointed as an expert in Information and Communications Technologies by the European Commission.
link_do_strony_projektu:
www.iip.net.pl/en/project