GAMA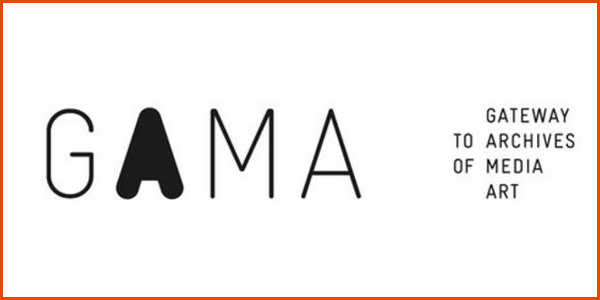 'GAMA: Gateway to Archives of Media Art'
English
(EN) GAMA - the gateway to archives of media art - provides an online access to a variety of European media art archives representing a large spectrum of media art. The quality of GAMA thrives on the very specialized focus of the archives and content providers - ranging from historical material of the 1920s to the present, and from nationally and geographically orientated archives to collections focusing on thematic perspectives. On this basis GAMA facilitates simple access to an expanding field of single media art works and simultaneously to a variety of contexts framing the different discourses and relations between them.
GAMA invites specialists and professionals as well as the interested public to enter this new territory and to discover or research media art beyond institutional or geographical borders. Keywords and different languages will help to quickly find what the searcher is looking for and to create heterogeneous modes of orientation.
Objectives of GAMA:
   - Enable enhanced access to European media art archives.
   - Significantly increase awareness and mediation of media art.
   - Be Europe's key online portal to its media art archives.
   - Facilitate for users the discovery, use and re-use of European digital cultural and artistic contents in Europe.
   - Combine and adapt existing standard and state-of-the art solutions to meet the needs for interoperability between the   individual archives and their heterogeneity.
Partners:
Akademia Górniczo-Hutnicza w Krakowie
LUDWIG BOLTZMANN GESELLSCHAFT GMBH
AKADEMIE DER BILDENDEN KUENSTE WIEN
CIANT - MEZINARODNI CENTRUM PRO UMENI A NOVE TECHNOLOGIE V PRAZE
ASSOCIATION DES INSTANTS VIDEO NUMERIQUES ET POETIQUES
STAATLICHE HOCHSCHULE FUER GESTALTUN
C3 KULTURALIS ES KOMMUNIKACIOS KOZPONT ALAPITVANY
SCCA ZAVOD ZA SODOBNO UMETNOST LJUBLJANA ZDRUZENJE
ATOS ORIGIN SOCIEDAD ANONIMA ESPANOLA
ZUERCHER HOCHSCHULE DER KUENSTE
STICHTING NEDERLANDS INSTITUUT VOOR MEDIAKUNST
STICHTING HOGESCHOOL VOOR DE KUNSTEN UTRECHT
IN2 SEARCH INTERFACES DEVELOPMENT LIMITED
Contact person:
www:
www.linkedin.com/in/miklesz
Informacje dodatkowe:
Pracę zawodową rozpoczął już w okresie studiów (1996): w COMARCH S.A. na stanowisku Kierownika Działu Technologii Multimedialnych, a potem w COMARCH Multimedia Sp. z o.o. na stanowisku Prezesa Zarządu; od 1999 roku jest pracownikiem Katedry Telekomunikacji AGH. Do jego pierwszych obowiązków należało projektowanie i implementacja cyfrowych bibliotek wideo. W 2000 roku wyjechał z Polski na czteromiesięczne stypendium naukowe na Universidad Carlos III de Madrid (Madryt, Hiszpania) gdzie przygotował pracę magisterską ("Implementation of the Recognition Engine's Search Module in Multimedia Application"). Po powrocie do Polski został zatrudniony w Katedrze Telekomunikacji na stanowisku asystenta naukowo-dydaktycznego, a w 2006 roku, po obronie pracy doktorskiej ("Analiza możliwości budowy internetowych aplikacji dostępu do cyfrowych bibliotek wideo"), na stanowisku adiunkta. W 2017 uzyskał stopień naukowy doktora habilitowanego, osiągnięciem: "Opracowanie i standaryzacja wybranych metod analizy QoE (ang. Quality of Experience) w aplikacjach wideo ze szczególnym uwzględnieniem rozpoznawania obiektów". Jego aktualne zainteresowania badawcze koncentrują się wokół szeroko pojętych systemów przetwarzania i analizy danych multimedialnych, ze szczególnym uwzględnieniem Quality of Experience. Jest (współ-)autorem około 150 publikacji naukowych, z czego 28 stanowią publikacje w czasopismach z bazy JCR. Mikołaj Leszczuk uczy na poziomie studiów inżynierskich, magisterskich i doktoranckich/podyplomowych. Mikołaj Leszczuk był promotorem pomocnicznym 1 doktoranta i nadzorował (wypromował) około 40 studentów magisterskich różnych narodowości. Uczestniczył lub uczestniczy w ponad 20 dużych projektach naukowych 4PR, 5PR, 6PR, 7PR, Horyzont 2020, POIG, Kultura 2000, PHARE, eContent+, Eureka! i innych. W latach 2009-2014, był administratorem dużego, międzynarodowego projektu badawczego INDECT, dzieki któremu powstał zestaw rozwiązań do inteligentnej obserwacji i automatycznego wykrywania podejrzanych zachowań i przemocy w środowisku miejskim. Jest członkiem organizacji VQEG (Video Quality Experts Group, członek zarządu), IEEE (Institute of Electrical and Electronics Engineers) i GAMA (Gateway to Archives of Media Art). Współpracuje z organizacją VQiPS (Video Quality in Public Safety). Więcej informacji: http://www.linkedin.com/in/miklesz
Additional information:
Mikołaj Leszczuk, DSc. He started his professional career in 1996 at COMARCH SA as manager of the Multimedia Technology Department, and then at COMARCH Multimedia as the CEO. Since 1999 has been employed at the AGH Department of Telecommunications. In 2000 he moved to Spain for a four-month scholarship at the Universidad Carlos III de Madrid. After returning to Poland, he was employed at the Department of Telecommunications as a research and teaching assistant, and in 2006, he successfully defended his doctoral dissertation as an assistant professor. In 2017 he obtained the postdoctoral degree. His current research interests are focused on multimedia data analysis and processing systems, with particular emphasis on Quality of Experience. He (co-)authored approximately 150 scientific publications of which 28 are publications in journals of the JCR database. He has been teaching at undergraduate and graduate levels. He has cosupervised 1 PhD student and supervised (promoted) approximately 40 MSc students of various nationalities. He has participated more than 20 major research projects, including FP4, FP5, FP6, FP7, Horizon 2020, OPIE, Culture 2000, PHARE, eContent+, and Eureka!. Between 2009 and 2014, he was the administrator of the major international INDECT research project, dealing with solutions for intelligent surveillance and automatic detection of suspicious behaviour and violence in urban environments. He is a member of VQEG (Video Quality Experts Group, board member), IEEE (Institute of Electrical and Electronics Engineers), and GAMA (Gateway to Archives of Media Art). The latter organization collaborates with the VQiPS (Video Quality in Public Safety) working group. More information: http://www.linkedin.com/in/miklesz