RESCUE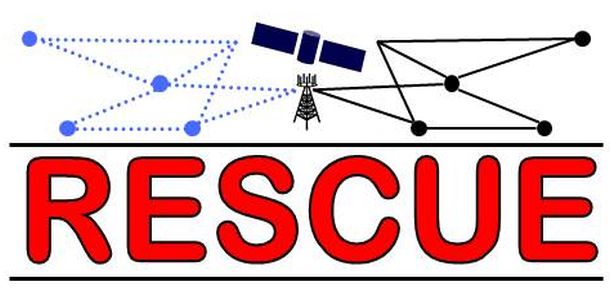 Źródło finansowania projektu:
Links-on-the-fly Technology for Robust, Efficient and Smart Communication in Unpredictable Environments
English
Current communication standards and systems are not optimally prepared for their application in unpredictable environments which occur for example in serious disaster scenarios such as earthquakes or tsunamis. Cellular communications systems are planned using accurate/strict link budget allocation mechanisms, in order to keep the probability of outage in an acceptable range. The whole communication chain (coding, signalling chain, but as well as higher layer protocols) is optimized for the operation in this range. Therefore, communication services perform poorly or fail completely in unpredictable environments. Future networks will most likely be heterogeneous and dense, a structure which can be exploited if communication schemes are constructed on an appropriate the theoretical, technological, and practical basis. In order to establish this basis, RESCUE (Links-on-the-fly Technology for Robust, Efficient and Smart Communication in Unpredictable Environments) proposes the integrated concept "links on the fly" which encompasses the key technologies of distributed joint source/channel coding in lossy wireless networks, exploitation of multi-path information transfer in wireless mesh and ad-hoc networks, distributed and centralized MAC/network protocols for channel access, and routing, cross-layer design for interference management and error control. This will allow to achieve successful and robust information transfer through multi-path networks that are constructed from lossy point-to-point links, adaptability of information quality to the specific quality of service (QoS) requirements of applications and devices for higher spectrum and energy efficiency and the integration of diverse communication infrastructure such as base stations, relays, and satellites, and terminals for network robustness and fast provision of communication. In practice, such situations are frequent in today's wireless networks with mobility of nodes, high density cells, dynamic and opportunistic frequency management that has impact on the on-going communications and future 5G networks challenges.
Partners:
Thales Communications & Security
Japan Advanced Institute of Science and Technology
Technische Universität Dresden
AGH University of Science and Technology
Technische Universität Ilmenau
Contact person:
email:
natkanie(at)kt(dot)agh(dot)edu(dot)pl
www:
http://www.kt.agh.edu.pl/~natkanie
Informacje dodatkowe:
Marek Natkaniec otrzymał tytuł magistra inżyniera w r. 1997 oraz stopień doktora nauk technicznych w dyscyplinie telekomunikacja w r. 2002 na Wydziale Elektrotechniki Automatyki i Elektroniki Akademii Górniczo-Hutniczej w Krakowie. W r. 2013 uzyskał stopień doktora habilitowanego w dyscyplinie telekomunikacja na Wydziale Informatyki, Elektroniki i Telekomunikacji Akademii Górniczo-Hutniczej w Krakowie. Obecnie pracuje jako adiunkt w Katedrze Telekomunikacji Akademii Górniczo-Hutniczej. Jego zainteresowania są związane z sieciami bezprzewodowymi i w szczególności obejmują: lokalne sieci bezprzewodowe, projektowanie protokołów komunikacyjnych, zagadnienia jakości obsługi, a także modelowanie oraz analizę wydajności pracy sieci teleinformatycznych. Pracował jako członek komitetu programowego wielu konferencji międzynarodowych. Jest także recenzentem w czasopismach i konferencjach międzynarodowych. Pracuje bądź pracował aktywnie w takich projektach europejskich, jak: MOCOMTEL, PRO-ACCESS, DAIDALOS I, DAIDALOS II, CONTENT, CARMEN, MEDUSA, HECTOR, FLAVIA, PROACTIVE i RESCUE. Uczestniczy również w realizacji projektów badawczych finansowanych przez Ministerstwo Nauki i Szkolnictwa Wyższego oraz projektów dla przemysłu. Jest zaangażowany w proces standaryzacji architektury GANA dla ETSI. Pracuje jako ekspert oraz konsultant w dziedzinie  sieci bezprzewodowych dla operatorów telekomunikacyjnych. Jest także członkiem Komitetu Redakcyjnego czasopisma Telekomunikacja Cyfrowa: Technologie i Usługi. Od roku 2005 jest opiekunem studenckiego koła naukowego "Telephoners". Posiada status członka seniora IEEE. Jest współautorem sześciu książek oraz ponad stu publikacji naukowych.
Additional information:
Marek Natkaniec received the M.Sc., Ph.D., and Ph.D.Hab. degrees in telecommunications from the AGH University of Science and Technology, Krakow, Poland in 1997, 2002, and 2013 respectively. In 1997 he joined AGH University of Science and Technology as a researcher. Now, he works as an assistant professor at the Department of Telecommunications. His general research interests are in wireless networks. Particular topics include wireless LANs, protocol design, modeling and performance evaluation of communication networks, quality of service, and cooperation of networks. He has served as a Technical Program Committee member in many international conferences. He is a reviewer for international journals and conferences. He has actively participated in several European projects (MOCOMTEL, PRO-ACCESS, DAIDALOS I, DAIDALOS II, CONTENT, CARMEN, MEDUSA, HECTOR, FLAVIA, PROACTIVE, RESCUE) as well as grants supported by the Ministry of Science and Higher Education. He is involved in standardization activities for ETSI. He serves as an expert and a consultant to telecom operators in the area of wireless networks. He is a member of the Editorial Board of Digital Communications - Technologies and Services journal. Since 2005 he is advisor of the students' scientific circle "Telephoners". He is a senior member of IEEE. Marek Natkaniec has co-authored six books and over 100 research papers.