chodorek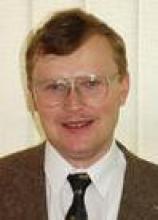 www:
www.kt.agh.edu.pl/~chodorek/
konsultacje:
poniedziałek 16:00- 17:30 Webex: https://meetingsemea4.webex.com/meet/chodorek
Informacje dodatkowe:
Robert R. Chodorek ukończył Wydział Elektrotechniki i Automatyki Politechniki Świętokrzyskiej w r. 1990 a w r. 1996 doktoryzował się na Wydziale Elektrotechniki, Automatyki i Elektroniki AGH. Zatrudniony jest obecnie na stanowisku adiunkta w Katedrze Telekomunikacji AGH. Autor i współautor ponad 100 publikacji naukowych (w tym 3 książek) z zakresu protokołów komunikacyjnych i sieci komputerowych. Specjalizuje się w analizie i modelowaniu protokołów sieci teleinformatycznych, sieci szerokopasmowych, transmisji multikastowej i multimedialnej. Aktywnie uczestniczył w projektach międzynarodowych Copernicus KNIXMAS, Tempus oraz POLONIUM. Kierował wieloma projektami badawczymi. Jest członkiem PTETiS i IEEE w randze Senior. Członek komitetu redakcyjnego czasopisma Telekomunikacja Cyfrowa – Technologie i Usługi.
Additional information:
Robert R. Chodorek received the M.S. degree in electrical engineering from the Kielce University of Technology in Kielce, Poland (1990), and a PhD in computer sciences from the AGH University of Science and Technology in Krakow, Poland (1996). He is currently an assistant professor in the Department of Telecommunications at the AGH University of Science and Technology in Krakow, Poland. His current areas of research include widely understood performance evaluation, in particular broadband communications, IP multicasting, and multimedia communications. He has actively participated in Copernicus KNIXMAS, Tempus and POLONIUM. He is a senior member of IEEE. He is author or co-author of over 100 research papers and two books. He is a Member of Editorial Board of Digital Communications - Technologies and Services.  
autor_kt
author
title
date
publication type
number
pages
vol
publisher

www:

www.kt.agh.edu.pl/~chodorek/

konsultacje:

poniedziałek 16:00- 17:30 Webex: https://meetingsemea4.webex.com/meet/chodorek

Informacje dodatkowe:

Robert R. Chodorek ukończył Wydział Elektrotechniki i Automatyki Politechniki Świętokrzyskiej w r. 1990 a w r. 1996 doktoryzował się na Wydziale Elektrotechniki, Automatyki i Elektroniki AGH. Zatrudniony jest obecnie na stanowisku adiunkta w Katedrze Telekomunikacji AGH. Autor i współautor ponad 100 publikacji naukowych (w tym 3 książek) z zakresu protokołów komunikacyjnych i sieci komputerowych. Specjalizuje się w analizie i modelowaniu protokołów sieci teleinformatycznych, sieci szerokopasmowych, transmisji multikastowej i multimedialnej. Aktywnie uczestniczył w projektach międzynarodowych Copernicus KNIXMAS, Tempus oraz POLONIUM. Kierował wieloma projektami badawczymi. Jest członkiem PTETiS i IEEE w randze Senior. Członek komitetu redakcyjnego czasopisma Telekomunikacja Cyfrowa – Technologie i Usługi.

Additional information:

Robert R. Chodorek received the M.S. degree in electrical engineering from the Kielce University of Technology in Kielce, Poland (1990), and a PhD in computer sciences from the AGH University of Science and Technology in Krakow, Poland (1996). He is currently an assistant professor in the Department of Telecommunications at the AGH University of Science and Technology in Krakow, Poland. His current areas of research include widely understood performance evaluation, in particular broadband communications, IP multicasting, and multimedia communications. He has actively participated in Copernicus KNIXMAS, Tempus and POLONIUM. He is a senior member of IEEE. He is author or co-author of over 100 research papers and two books. He is a Member of Editorial Board of Digital Communications - Technologies and Services.  

Chodorek A., Chodorek R. R.
An analysis of TCP-tolerant real-time multimedia distribution in heterogeneous network

2009-10

chapter
315-336
River Publishers

www:

www.kt.agh.edu.pl/~chodorek/

konsultacje:

poniedziałek 16:00- 17:30 Webex: https://meetingsemea4.webex.com/meet/chodorek

Informacje dodatkowe:

Robert R. Chodorek ukończył Wydział Elektrotechniki i Automatyki Politechniki Świętokrzyskiej w r. 1990 a w r. 1996 doktoryzował się na Wydziale Elektrotechniki, Automatyki i Elektroniki AGH. Zatrudniony jest obecnie na stanowisku adiunkta w Katedrze Telekomunikacji AGH. Autor i współautor ponad 100 publikacji naukowych (w tym 3 książek) z zakresu protokołów komunikacyjnych i sieci komputerowych. Specjalizuje się w analizie i modelowaniu protokołów sieci teleinformatycznych, sieci szerokopasmowych, transmisji multikastowej i multimedialnej. Aktywnie uczestniczył w projektach międzynarodowych Copernicus KNIXMAS, Tempus oraz POLONIUM. Kierował wieloma projektami badawczymi. Jest członkiem PTETiS i IEEE w randze Senior. Członek komitetu redakcyjnego czasopisma Telekomunikacja Cyfrowa – Technologie i Usługi.

Additional information:

Robert R. Chodorek received the M.S. degree in electrical engineering from the Kielce University of Technology in Kielce, Poland (1990), and a PhD in computer sciences from the AGH University of Science and Technology in Krakow, Poland (1996). He is currently an assistant professor in the Department of Telecommunications at the AGH University of Science and Technology in Krakow, Poland. His current areas of research include widely understood performance evaluation, in particular broadband communications, IP multicasting, and multimedia communications. He has actively participated in Copernicus KNIXMAS, Tempus and POLONIUM. He is a senior member of IEEE. He is author or co-author of over 100 research papers and two books. He is a Member of Editorial Board of Digital Communications - Technologies and Services.  

Chodorek A., Chodorek R. R.
The satellite Internet: the convergence of communication and data networks

2008-10

chapter
131-149
Information Science Reference

www:

www.kt.agh.edu.pl/~chodorek/

konsultacje:

poniedziałek 16:00- 17:30 Webex: https://meetingsemea4.webex.com/meet/chodorek

Informacje dodatkowe:

Robert R. Chodorek ukończył Wydział Elektrotechniki i Automatyki Politechniki Świętokrzyskiej w r. 1990 a w r. 1996 doktoryzował się na Wydziale Elektrotechniki, Automatyki i Elektroniki AGH. Zatrudniony jest obecnie na stanowisku adiunkta w Katedrze Telekomunikacji AGH. Autor i współautor ponad 100 publikacji naukowych (w tym 3 książek) z zakresu protokołów komunikacyjnych i sieci komputerowych. Specjalizuje się w analizie i modelowaniu protokołów sieci teleinformatycznych, sieci szerokopasmowych, transmisji multikastowej i multimedialnej. Aktywnie uczestniczył w projektach międzynarodowych Copernicus KNIXMAS, Tempus oraz POLONIUM. Kierował wieloma projektami badawczymi. Jest członkiem PTETiS i IEEE w randze Senior. Członek komitetu redakcyjnego czasopisma Telekomunikacja Cyfrowa – Technologie i Usługi.

Additional information:

Robert R. Chodorek received the M.S. degree in electrical engineering from the Kielce University of Technology in Kielce, Poland (1990), and a PhD in computer sciences from the AGH University of Science and Technology in Krakow, Poland (1996). He is currently an assistant professor in the Department of Telecommunications at the AGH University of Science and Technology in Krakow, Poland. His current areas of research include widely understood performance evaluation, in particular broadband communications, IP multicasting, and multimedia communications. He has actively participated in Copernicus KNIXMAS, Tempus and POLONIUM. He is a senior member of IEEE. He is author or co-author of over 100 research papers and two books. He is a Member of Editorial Board of Digital Communications - Technologies and Services.  

Chodorek R. R.
IP multicasting

2008-02

chapter
242-248
Information Science Reference