bulat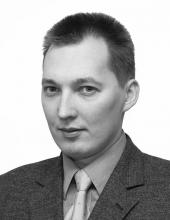 Informacje dodatkowe:
Jarosław Bułat, ukończył Wydział Elektrotechniki, Automatyki, Informatyki i Elektroniki AGH w 1999 r., stopień doktora nauk technicznych w dziedzinie Telekomunikacja uzyskał w 2006 r. na tym samym wydziale. Od 1999 roku pracował w Katedrze Metrologii Akademii Górniczo-Hutniczej, od 2006 pracuje w Katedrze Telekomunikacji na Wydziale Informatyki, Elektroniki i Telekomunikacji AGH na stanowisku adiunkta. Zajmuje się zagadnieniami przetwarzania sygnałów w telekomunikacji, telemedycynie i systemach wideo oraz zagadnieniami związanymi z programowaniem (systemy rozproszone, mobilne, równoległe). Jest autorem lub współautorem 36 prac naukowych (artykuły w czasopismach i referaty w materiałach konferencyjnych). Aktywnie uczestniczył lub uczestniczy w wielu projektach krajowych i europejskich 6. i 7 Programu Ramowego.
Additional information:
Jarosław Bułat received his M.Sc. in electrical engineering and Ph.D. degrees in telecommunications form the from AGH University of Science and Technology (Krakow, Poland) in 1999 and 2006 respectively. His professional interests are related to digital signal processing in telecommunication, biomedical and video systems and related to computer programming (concurrent systems, mobile systems and massive parallel computation). He has authored and co-authored of 39 scientific journal and conference papers. He has been involved in several national and European projects.
Uczestnictwo w projektach:
Participation in projects:

Links-on-the-fly Technology for Robust, Efficient and Smart Communication in Unpredictable Environments

Development of a System for Detecting Security Threats for Persons with a Vision Impairment, Including Threats Caused by Traffic. Legal and Technical Aspects.
autor_kt
author
title
date
publication type
number
pages
vol
publisher

Informacje dodatkowe:

Jarosław Bułat, ukończył Wydział Elektrotechniki, Automatyki, Informatyki i Elektroniki AGH w 1999 r., stopień doktora nauk technicznych w dziedzinie Telekomunikacja uzyskał w 2006 r. na tym samym wydziale. Od 1999 roku pracował w Katedrze Metrologii Akademii Górniczo-Hutniczej, od 2006 pracuje w Katedrze Telekomunikacji na Wydziale Informatyki, Elektroniki i Telekomunikacji AGH na stanowisku adiunkta. Zajmuje się zagadnieniami przetwarzania sygnałów w telekomunikacji, telemedycynie i systemach wideo oraz zagadnieniami związanymi z programowaniem (systemy rozproszone, mobilne, równoległe). Jest autorem lub współautorem 36 prac naukowych (artykuły w czasopismach i referaty w materiałach konferencyjnych). Aktywnie uczestniczył lub uczestniczy w wielu projektach krajowych i europejskich 6. i 7 Programu Ramowego.

Additional information:

Jarosław Bułat received his M.Sc. in electrical engineering and Ph.D. degrees in telecommunications form the from AGH University of Science and Technology (Krakow, Poland) in 1999 and 2006 respectively. His professional interests are related to digital signal processing in telecommunication, biomedical and video systems and related to computer programming (concurrent systems, mobile systems and massive parallel computation). He has authored and co-authored of 39 scientific journal and conference papers. He has been involved in several national and European projects.

,

Informacje dodatkowe:

 
Lucjan Janowski jest adiunktem w Katedrze Telekomunikacji Akademii Górniczo-Hutniczej. Otrzymał tytuł magistra inżyniera telekomunikacji w 2002 roku i tytuł doktora telekomunikacji w roku 2006. Oba stopnie zostały uzyskane w Akademii Górniczo-Hutniczej AGH. W roku 2007 pracował na pozycji post-doc w CNRS-LAAS (Laboratory for Analysis and Architecture of Systems of CNRS) we Francji, gdzie pracował nad problematyką wykrywania anomalii i ataków sieciowych. Na przełomie 2010/2011 pracował przez sześć miesięcy w Genewie nad jakością sekwencji medycznych. Jego głównym zainteresowaniem jest statystyka oraz modelowanie odpowiedzi testerów dla testów jakości postrzeganej przez użytkownika (QoE Quality of Experience). 

Additional information:

Lucjan Janowski is an assistant professor at the Department of Telecommunications (AGH University of Science and Technology). He received his M.Sc. degree in Telecommunications in 2002 and Ph.D. degree in Telecommunications in 2006 both from the AGH University of Science and Technology. During 2007 he worked on a post-doc position in CNRS-LAAS (Laboratory for Analysis and Architecture of Systems of CNRS) in France where prepared both malicious traffic analysis and anomaly detection algorithms. In 2010/2011 he spent half a year on a post-doc position in University of Geneva working on QoE for health applicaitons. His main interests are statistics and probabilistic modelling of subjects and subjective rates used in QoE evaluation. He has participated in several commercial and scientific projects. 

Tourancheau S., Wang K., Janowski L., Bulat J., Brunnström K., Barkowsky M.
Reproducibility of crosstalk measurements on active glasses 3D LCD displays based on temporal characterization

2012-10

article
Proc. 2012 Stereoscopic Displays and Applications conference

Informacje dodatkowe:

Jarosław Bułat, ukończył Wydział Elektrotechniki, Automatyki, Informatyki i Elektroniki AGH w 1999 r., stopień doktora nauk technicznych w dziedzinie Telekomunikacja uzyskał w 2006 r. na tym samym wydziale. Od 1999 roku pracował w Katedrze Metrologii Akademii Górniczo-Hutniczej, od 2006 pracuje w Katedrze Telekomunikacji na Wydziale Informatyki, Elektroniki i Telekomunikacji AGH na stanowisku adiunkta. Zajmuje się zagadnieniami przetwarzania sygnałów w telekomunikacji, telemedycynie i systemach wideo oraz zagadnieniami związanymi z programowaniem (systemy rozproszone, mobilne, równoległe). Jest autorem lub współautorem 36 prac naukowych (artykuły w czasopismach i referaty w materiałach konferencyjnych). Aktywnie uczestniczył lub uczestniczy w wielu projektach krajowych i europejskich 6. i 7 Programu Ramowego.

Additional information:

Jarosław Bułat received his M.Sc. in electrical engineering and Ph.D. degrees in telecommunications form the from AGH University of Science and Technology (Krakow, Poland) in 1999 and 2006 respectively. His professional interests are related to digital signal processing in telecommunication, biomedical and video systems and related to computer programming (concurrent systems, mobile systems and massive parallel computation). He has authored and co-authored of 39 scientific journal and conference papers. He has been involved in several national and European projects.

,

Informacje dodatkowe:

Tomasz P. Zieliński uzyskał stopień mgr inż. z elektroniki, dr habilitowanego z elektrotechniki i tytuł naukowy profesora z telekomunikacji odpowiednio w latach 1982, 1996 i 2003. Stopień doktora nauk technicznych otrzymał w 1989 roku w Instytucie Cybernetyki Technicznej i Robotów Bułgarskiej Akademii Nauk w Sofii. Od 1982 roku do 2006 roku pracował na AGH w Katedrze Metrologii, kolejno jako asystent (1982), adiunkt (1989) i profesor nadzwyczajny (2000). Od 2006 roku pracuje w Katedrze Telekomunikacji na stanowisku profesora zwyczajnego. Jest autorem lub współautorem ponad 150 prac naukowych (artykuły w czasopismach i referaty w materiałach konferencyjnych). Jest autorem trzech monografii: "Reprezentacje sygnałów niestacjonarnych typu czas-częstotliwość i czas-skala" (AGH, 1996), "Od teorii do cyfrowego przetwarzania sygnałów" (AGH, 2002, 2004) i "Cyfrowe przetwarzanie sygnałów: Od teorii do zastosowań" (WKŁ, 2005, 2007, 2009). Kierował ponad 10 polskimi projektami badawczymi oraz aktywnie uczestniczył w kilku programach międzynarodowych, m.in. "ECSON Engineering and Computational Science for Oncology Network" (Anglia), "VECTOR Versatile Endoscopic Capsule for gastrointestinal TumOr Recognition and therapy" (FP6 EC), "Efficacy of Laryngeal High-Speed Video-endoscopy" (NIH, USA). Jego zainteresowania naukowe obejmują zaawansowane zastosowania metod cyfrowego przetwarzania sygnałów w systemach telekomunikacyjnych i biomedycznych, w szczególności łączną czasowo-częstotliwościową analizę sygnałów. Jest członkiem IEEE.

Additional information:

Tomasz P. Zielinski received the M.S. degree in electronics, the D.Sc. degree (habilitation) in electrical engineering and the the scientific Professor title in telecommunications from the AGH University of Science and Technology (AGH-UST), Kraków, Poland, in 1982, 1996 and 2003, respectively, and the Ph.D. degree in electrical engineering from the Institute of Engineering Cybernetics and Robotics of Bulgarian Academy of Sciences, Sofia, Bulgaria, in 1988. Since 1982 he has been working at the Department of Instrumentation & Measurement AGH-UST as a Research & Teaching Assistant (1982), Associate (1989), Assistant Professor (1996) and Associate Professor (2000). In 2006 he joined the Department of Telecommunications, AGH-UST as a Full Professor. He has authored and co-authored more than 150 scientific journal and conference papers. He is also the author of three monographs (all in Polish): Time-Frequency and Time-Scale Representations of Non-stationary Signals (1996), From Theory to Digital Signal Processing (2002, 2004) and Digital Signal Processing: From Theory to Applications (2005, 2007, 2009). He has been a supervisor of more than 10 Polish research projects and actively participated in a few international programs (EPSR Council UK, ECSON: Engineering and Computational Science for Oncology Network; VECTOR EC FP6: Versatile Endoscopic Capsule for gastrointestinal TumOr Recognition and therapy; NIH, USA: "Efficacy of Laryngeal High-Speed Video-endoscopy"). His research interests include advanced digital signal processing in telecommunication and biomedical systems, especially time-frequency signal analysis. He is an IEEE member.

Bułat J., Duda K., Socha M., Turcza P., Zieiński T., Duplaga M.
Computational tasks in computer-assisted transbronchial biopsy

2010-03

article
3
455–461
26
Future Generation Computer Systems

Informacje dodatkowe:

Jarosław Bułat, ukończył Wydział Elektrotechniki, Automatyki, Informatyki i Elektroniki AGH w 1999 r., stopień doktora nauk technicznych w dziedzinie Telekomunikacja uzyskał w 2006 r. na tym samym wydziale. Od 1999 roku pracował w Katedrze Metrologii Akademii Górniczo-Hutniczej, od 2006 pracuje w Katedrze Telekomunikacji na Wydziale Informatyki, Elektroniki i Telekomunikacji AGH na stanowisku adiunkta. Zajmuje się zagadnieniami przetwarzania sygnałów w telekomunikacji, telemedycynie i systemach wideo oraz zagadnieniami związanymi z programowaniem (systemy rozproszone, mobilne, równoległe). Jest autorem lub współautorem 36 prac naukowych (artykuły w czasopismach i referaty w materiałach konferencyjnych). Aktywnie uczestniczył lub uczestniczy w wielu projektach krajowych i europejskich 6. i 7 Programu Ramowego.

Additional information:

Jarosław Bułat received his M.Sc. in electrical engineering and Ph.D. degrees in telecommunications form the from AGH University of Science and Technology (Krakow, Poland) in 1999 and 2006 respectively. His professional interests are related to digital signal processing in telecommunication, biomedical and video systems and related to computer programming (concurrent systems, mobile systems and massive parallel computation). He has authored and co-authored of 39 scientific journal and conference papers. He has been involved in several national and European projects.

,

Informacje dodatkowe:

Tomasz P. Zieliński uzyskał stopień mgr inż. z elektroniki, dr habilitowanego z elektrotechniki i tytuł naukowy profesora z telekomunikacji odpowiednio w latach 1982, 1996 i 2003. Stopień doktora nauk technicznych otrzymał w 1989 roku w Instytucie Cybernetyki Technicznej i Robotów Bułgarskiej Akademii Nauk w Sofii. Od 1982 roku do 2006 roku pracował na AGH w Katedrze Metrologii, kolejno jako asystent (1982), adiunkt (1989) i profesor nadzwyczajny (2000). Od 2006 roku pracuje w Katedrze Telekomunikacji na stanowisku profesora zwyczajnego. Jest autorem lub współautorem ponad 150 prac naukowych (artykuły w czasopismach i referaty w materiałach konferencyjnych). Jest autorem trzech monografii: "Reprezentacje sygnałów niestacjonarnych typu czas-częstotliwość i czas-skala" (AGH, 1996), "Od teorii do cyfrowego przetwarzania sygnałów" (AGH, 2002, 2004) i "Cyfrowe przetwarzanie sygnałów: Od teorii do zastosowań" (WKŁ, 2005, 2007, 2009). Kierował ponad 10 polskimi projektami badawczymi oraz aktywnie uczestniczył w kilku programach międzynarodowych, m.in. "ECSON Engineering and Computational Science for Oncology Network" (Anglia), "VECTOR Versatile Endoscopic Capsule for gastrointestinal TumOr Recognition and therapy" (FP6 EC), "Efficacy of Laryngeal High-Speed Video-endoscopy" (NIH, USA). Jego zainteresowania naukowe obejmują zaawansowane zastosowania metod cyfrowego przetwarzania sygnałów w systemach telekomunikacyjnych i biomedycznych, w szczególności łączną czasowo-częstotliwościową analizę sygnałów. Jest członkiem IEEE.

Additional information:

Tomasz P. Zielinski received the M.S. degree in electronics, the D.Sc. degree (habilitation) in electrical engineering and the the scientific Professor title in telecommunications from the AGH University of Science and Technology (AGH-UST), Kraków, Poland, in 1982, 1996 and 2003, respectively, and the Ph.D. degree in electrical engineering from the Institute of Engineering Cybernetics and Robotics of Bulgarian Academy of Sciences, Sofia, Bulgaria, in 1988. Since 1982 he has been working at the Department of Instrumentation & Measurement AGH-UST as a Research & Teaching Assistant (1982), Associate (1989), Assistant Professor (1996) and Associate Professor (2000). In 2006 he joined the Department of Telecommunications, AGH-UST as a Full Professor. He has authored and co-authored more than 150 scientific journal and conference papers. He is also the author of three monographs (all in Polish): Time-Frequency and Time-Scale Representations of Non-stationary Signals (1996), From Theory to Digital Signal Processing (2002, 2004) and Digital Signal Processing: From Theory to Applications (2005, 2007, 2009). He has been a supervisor of more than 10 Polish research projects and actively participated in a few international programs (EPSR Council UK, ECSON: Engineering and Computational Science for Oncology Network; VECTOR EC FP6: Versatile Endoscopic Capsule for gastrointestinal TumOr Recognition and therapy; NIH, USA: "Efficacy of Laryngeal High-Speed Video-endoscopy"). His research interests include advanced digital signal processing in telecommunication and biomedical systems, especially time-frequency signal analysis. He is an IEEE member.

Bułat J., Duda K., Socha M., Turcza P., Zieliński T., Duplaga M.
Computational tasks in bronchoscope navigation during computer-assisted transbronchial biopsy

2008-10

proceedings paper
178-187
5103/2008
Lecture Notes in Computer Science

Informacje dodatkowe:

Jarosław Bułat, ukończył Wydział Elektrotechniki, Automatyki, Informatyki i Elektroniki AGH w 1999 r., stopień doktora nauk technicznych w dziedzinie Telekomunikacja uzyskał w 2006 r. na tym samym wydziale. Od 1999 roku pracował w Katedrze Metrologii Akademii Górniczo-Hutniczej, od 2006 pracuje w Katedrze Telekomunikacji na Wydziale Informatyki, Elektroniki i Telekomunikacji AGH na stanowisku adiunkta. Zajmuje się zagadnieniami przetwarzania sygnałów w telekomunikacji, telemedycynie i systemach wideo oraz zagadnieniami związanymi z programowaniem (systemy rozproszone, mobilne, równoległe). Jest autorem lub współautorem 36 prac naukowych (artykuły w czasopismach i referaty w materiałach konferencyjnych). Aktywnie uczestniczył lub uczestniczy w wielu projektach krajowych i europejskich 6. i 7 Programu Ramowego.

Additional information:

Jarosław Bułat received his M.Sc. in electrical engineering and Ph.D. degrees in telecommunications form the from AGH University of Science and Technology (Krakow, Poland) in 1999 and 2006 respectively. His professional interests are related to digital signal processing in telecommunication, biomedical and video systems and related to computer programming (concurrent systems, mobile systems and massive parallel computation). He has authored and co-authored of 39 scientific journal and conference papers. He has been involved in several national and European projects.

,

Informacje dodatkowe:

Tomasz P. Zieliński uzyskał stopień mgr inż. z elektroniki, dr habilitowanego z elektrotechniki i tytuł naukowy profesora z telekomunikacji odpowiednio w latach 1982, 1996 i 2003. Stopień doktora nauk technicznych otrzymał w 1989 roku w Instytucie Cybernetyki Technicznej i Robotów Bułgarskiej Akademii Nauk w Sofii. Od 1982 roku do 2006 roku pracował na AGH w Katedrze Metrologii, kolejno jako asystent (1982), adiunkt (1989) i profesor nadzwyczajny (2000). Od 2006 roku pracuje w Katedrze Telekomunikacji na stanowisku profesora zwyczajnego. Jest autorem lub współautorem ponad 150 prac naukowych (artykuły w czasopismach i referaty w materiałach konferencyjnych). Jest autorem trzech monografii: "Reprezentacje sygnałów niestacjonarnych typu czas-częstotliwość i czas-skala" (AGH, 1996), "Od teorii do cyfrowego przetwarzania sygnałów" (AGH, 2002, 2004) i "Cyfrowe przetwarzanie sygnałów: Od teorii do zastosowań" (WKŁ, 2005, 2007, 2009). Kierował ponad 10 polskimi projektami badawczymi oraz aktywnie uczestniczył w kilku programach międzynarodowych, m.in. "ECSON Engineering and Computational Science for Oncology Network" (Anglia), "VECTOR Versatile Endoscopic Capsule for gastrointestinal TumOr Recognition and therapy" (FP6 EC), "Efficacy of Laryngeal High-Speed Video-endoscopy" (NIH, USA). Jego zainteresowania naukowe obejmują zaawansowane zastosowania metod cyfrowego przetwarzania sygnałów w systemach telekomunikacyjnych i biomedycznych, w szczególności łączną czasowo-częstotliwościową analizę sygnałów. Jest członkiem IEEE.

Additional information:

Tomasz P. Zielinski received the M.S. degree in electronics, the D.Sc. degree (habilitation) in electrical engineering and the the scientific Professor title in telecommunications from the AGH University of Science and Technology (AGH-UST), Kraków, Poland, in 1982, 1996 and 2003, respectively, and the Ph.D. degree in electrical engineering from the Institute of Engineering Cybernetics and Robotics of Bulgarian Academy of Sciences, Sofia, Bulgaria, in 1988. Since 1982 he has been working at the Department of Instrumentation & Measurement AGH-UST as a Research & Teaching Assistant (1982), Associate (1989), Assistant Professor (1996) and Associate Professor (2000). In 2006 he joined the Department of Telecommunications, AGH-UST as a Full Professor. He has authored and co-authored more than 150 scientific journal and conference papers. He is also the author of three monographs (all in Polish): Time-Frequency and Time-Scale Representations of Non-stationary Signals (1996), From Theory to Digital Signal Processing (2002, 2004) and Digital Signal Processing: From Theory to Applications (2005, 2007, 2009). He has been a supervisor of more than 10 Polish research projects and actively participated in a few international programs (EPSR Council UK, ECSON: Engineering and Computational Science for Oncology Network; VECTOR EC FP6: Versatile Endoscopic Capsule for gastrointestinal TumOr Recognition and therapy; NIH, USA: "Efficacy of Laryngeal High-Speed Video-endoscopy"). His research interests include advanced digital signal processing in telecommunication and biomedical systems, especially time-frequency signal analysis. He is an IEEE member.

Bulat J., Duda K., Duplaga M., Fraczek R., Skalski A., Socha M., Turcza P., Zielinski T. P.
Data Processing Tasks in Wireless GI Endoscopy: Image-Based Capsule Localization & Navigation and Video Compression

2007-09

proceedings paper
2815-2818
Proc. IEEE Int. Conference on Engineering in Medicine and Biology EMBC-2007, Lyon, France

Informacje dodatkowe:

Jarosław Bułat, ukończył Wydział Elektrotechniki, Automatyki, Informatyki i Elektroniki AGH w 1999 r., stopień doktora nauk technicznych w dziedzinie Telekomunikacja uzyskał w 2006 r. na tym samym wydziale. Od 1999 roku pracował w Katedrze Metrologii Akademii Górniczo-Hutniczej, od 2006 pracuje w Katedrze Telekomunikacji na Wydziale Informatyki, Elektroniki i Telekomunikacji AGH na stanowisku adiunkta. Zajmuje się zagadnieniami przetwarzania sygnałów w telekomunikacji, telemedycynie i systemach wideo oraz zagadnieniami związanymi z programowaniem (systemy rozproszone, mobilne, równoległe). Jest autorem lub współautorem 36 prac naukowych (artykuły w czasopismach i referaty w materiałach konferencyjnych). Aktywnie uczestniczył lub uczestniczy w wielu projektach krajowych i europejskich 6. i 7 Programu Ramowego.

Additional information:

Jarosław Bułat received his M.Sc. in electrical engineering and Ph.D. degrees in telecommunications form the from AGH University of Science and Technology (Krakow, Poland) in 1999 and 2006 respectively. His professional interests are related to digital signal processing in telecommunication, biomedical and video systems and related to computer programming (concurrent systems, mobile systems and massive parallel computation). He has authored and co-authored of 39 scientific journal and conference papers. He has been involved in several national and European projects.

,

Informacje dodatkowe:

Tomasz P. Zieliński uzyskał stopień mgr inż. z elektroniki, dr habilitowanego z elektrotechniki i tytuł naukowy profesora z telekomunikacji odpowiednio w latach 1982, 1996 i 2003. Stopień doktora nauk technicznych otrzymał w 1989 roku w Instytucie Cybernetyki Technicznej i Robotów Bułgarskiej Akademii Nauk w Sofii. Od 1982 roku do 2006 roku pracował na AGH w Katedrze Metrologii, kolejno jako asystent (1982), adiunkt (1989) i profesor nadzwyczajny (2000). Od 2006 roku pracuje w Katedrze Telekomunikacji na stanowisku profesora zwyczajnego. Jest autorem lub współautorem ponad 150 prac naukowych (artykuły w czasopismach i referaty w materiałach konferencyjnych). Jest autorem trzech monografii: "Reprezentacje sygnałów niestacjonarnych typu czas-częstotliwość i czas-skala" (AGH, 1996), "Od teorii do cyfrowego przetwarzania sygnałów" (AGH, 2002, 2004) i "Cyfrowe przetwarzanie sygnałów: Od teorii do zastosowań" (WKŁ, 2005, 2007, 2009). Kierował ponad 10 polskimi projektami badawczymi oraz aktywnie uczestniczył w kilku programach międzynarodowych, m.in. "ECSON Engineering and Computational Science for Oncology Network" (Anglia), "VECTOR Versatile Endoscopic Capsule for gastrointestinal TumOr Recognition and therapy" (FP6 EC), "Efficacy of Laryngeal High-Speed Video-endoscopy" (NIH, USA). Jego zainteresowania naukowe obejmują zaawansowane zastosowania metod cyfrowego przetwarzania sygnałów w systemach telekomunikacyjnych i biomedycznych, w szczególności łączną czasowo-częstotliwościową analizę sygnałów. Jest członkiem IEEE.

Additional information:

Tomasz P. Zielinski received the M.S. degree in electronics, the D.Sc. degree (habilitation) in electrical engineering and the the scientific Professor title in telecommunications from the AGH University of Science and Technology (AGH-UST), Kraków, Poland, in 1982, 1996 and 2003, respectively, and the Ph.D. degree in electrical engineering from the Institute of Engineering Cybernetics and Robotics of Bulgarian Academy of Sciences, Sofia, Bulgaria, in 1988. Since 1982 he has been working at the Department of Instrumentation & Measurement AGH-UST as a Research & Teaching Assistant (1982), Associate (1989), Assistant Professor (1996) and Associate Professor (2000). In 2006 he joined the Department of Telecommunications, AGH-UST as a Full Professor. He has authored and co-authored more than 150 scientific journal and conference papers. He is also the author of three monographs (all in Polish): Time-Frequency and Time-Scale Representations of Non-stationary Signals (1996), From Theory to Digital Signal Processing (2002, 2004) and Digital Signal Processing: From Theory to Applications (2005, 2007, 2009). He has been a supervisor of more than 10 Polish research projects and actively participated in a few international programs (EPSR Council UK, ECSON: Engineering and Computational Science for Oncology Network; VECTOR EC FP6: Versatile Endoscopic Capsule for gastrointestinal TumOr Recognition and therapy; NIH, USA: "Efficacy of Laryngeal High-Speed Video-endoscopy"). His research interests include advanced digital signal processing in telecommunication and biomedical systems, especially time-frequency signal analysis. He is an IEEE member.

Bulat J., Twardowski T., Zielinski T.
Some New Results from TEQ Design for Maximum Bit Rate ADSL Modem

2004-06

proceedings paper
21-25
1
Proc. IEEE Int. Conference on Communications ICC-2004, Paris, France